The bobwhite quail raised at Malloy Gamebirds have been isolated and selectively bred for performance in the field along with showing natural instinct.
Our breeder quail are colony bred, which means they are allowed to free range. They are housed inside a building with radiant heat in the concrete, no wire cage breeding is done. With lights and heat, we can produce fresh, fertile eggs year round. Eggs are gathered twice daily. The colony breeding allows the females to show there nesting behavior and defend their nests on a daily basis, which we believe this creates a better bird for survival in the wild.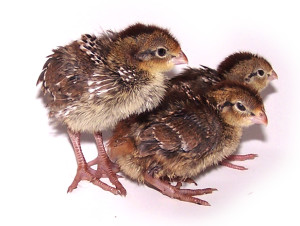 All of the bobwhites that are raised to maturity are started in brooders under heat for about 5 weeks. They are then moved to other finish buildings that are much larger, allowing them plenty of room to fly. While quail are raised under a roof, the birds are able to experience the weather through wire on the doors of the buildings. This allows for proper feathering.
Most of our quail are considered mature at 16-18 weeks unless a client requests differently. During peak season of August through November, our birds are usually 20 weeks old or older. Our gamebirds are great flyers in the field and should perform well for any organized hunt or dog trial.
When raising quail in large numbers, antibiotics can be necessary. LS-50 (Lincomycin-Spectinomycin) is one we use most often here at Malloy Gamebirds. We follow the label for dosage.